---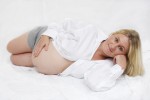 Creating a maternity portrait is a little more tricky than capturing a regular portrait. Here are a few keys to creating great maternity portraits.
The location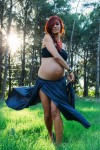 Choose a location that the expecting mother will feel most comfortable. Some future moms will prefer the privacy of their house, for others it will be the formality of a studio, and still others want to be photographed outdoors. Or they may want a combination of locations, their home and outside for instance. Just keep in mind the important thing is your subject comfort level.
Shooting outdoors has some unique issues. That is the level of exposure, and I don't mean shutter speed. Your pregnant subject may become uncomfortable in public with other people watching as you capture your images. This may not be an issue for some, but other woman think of their pregnant tummy as a private body part.
Being sensitive
There is something about how an expecting mother perceives her body. Being sensitive to her own body image is necessary for a successful maternity photo session. Remember, being aware of your subjects comfort level is paramount. Pay attention and be mindful of her expression, and body language, to see how she is feeling about exposing different parts of her body.
Be ready for this by allowing more time to for breaks in the your photo session. If you're subject wants more revealing images in a private setting, consider having her wear a sheer robe, a man's button down shirt to be unbutton for her tummy, or a snug tank top or tee shirt that she can pull up.
---
---
Highlight the features
Think about how to highlight your subjects best features. With maternity portraits you have to think about how best to show her belly, not just face and body.
Just like any other kind of photography, you have to "work the scene". Try various shooting angles and change your perspective. Shooting from a high perspective, from the top down, puts the emphasis on your subjects face and the roundness of her belly. This point of view also hides the stretch marks that often occur on the lower parts of the belly. Shooting from a low point of view will emphasize the the size of the belly, perfect for women who have a smaller bulge.
Scheduling the session
You will want to schedule your session with the expectant mom when her belly is large, but not so late in the pregnancy that you risk an early delivery. Typically the later part of the seventh month to the beginning of the ninth month works best.
Another reason for avoiding the ninth month is the greater chance of her having skin issues due to hormones, retaining water, or the having the maternity clothes she likes most just not fitting right any more.
Make her feel beautiful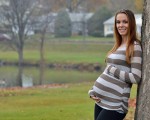 This may be a tie with being aware of your subjects comfort level, or maybe it goes hand-in-hand with it. It's important that mom feels beautiful. Tell her how amazing she looks and remind her how wonderful the creation of life is. When she connects emotionally with her baby she'll likely forget about stretch marks and people watching you work.
Ask mom to feel her baby with her hands on her belly and close her eyes, and think about her baby. The expression she gets when she opens her eyes in that moment is all you will need to capture the perfect maternity portrait.
Photo Credits
"High Angle Maternity" by Sandra Thomson
"High Key Maternity" by Jamie Campbell
"Maternity Low Angle" by Sean McGrath
"Freedom" by mariadelajuana
"Outdoor Maternity" by bradfordst219
Be sure to leave your comments below and look at the Related Posts below the Sociable links.
---
---