---
Not many photographers are able to resist the desire to photograph flowers, gardens, and exotic plants. The collage of color, textures, symmetry, and variation are just to enticing. The beauty of plants transcend language and culture, making flowers and plants a truly universal subject!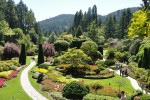 Here are the keys to help you capture the best images of flowers and plants. Take some establishing shots of the garden from main vantage points to capture a sense of place. Then move on to separate areas of the garden as individual compositions.
If the garden is a tourist attraction it is probably well designed with many great vantage points. Check with the garden's visitors center for a map.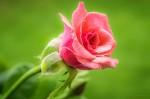 As with all photography, the strongest plant and flower photographs are created using the rules for good composition. There should be a clear subject, your placement of the elements (shape, color, lines, repetition, texture, etc.) in the scene should lead your viewer's eye to the subject and then through the rest of your image.
---
---
While photographing plants and flowers you will have plenty of opportunities to practice macro photography. You can use macro lenses or filters, as well as experiment with the macro mode on your camera should it have one.
Tips for plant and flower photography
Use a high point of view. Not just for individual flowers or plants. Try shooting above gardens also to illustrate their overall size, scope, and color patterns (the establishing shot).
Ensure sharp focus. Anything less than tack sharp focus lessens the impact of the photograph. Switch to manual focus of necessary.
Watch for backlight opportunities. Many petals and leaves are translucent. Backlight these translucent features to create some very graphic photographs of flowers and plants.
Use the sky as your background. Use a low point of view so that you're shooting up and isolating the flower against the blue sky.
Color enhancement. Use a polarizing filter for better color saturation of both the plant life and the sky.
Photo Credits

"Butchart Gardens" by Abdallahh
"Red Rose"by Sunny
"Flower against sky" by solarisgirl
Be sure to leave your comments below and look at the Related Posts below the Sociable links.
---
---