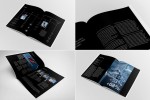 Most people would prefer reading a business report illustrated with photographs than one that is just large blocks of text on white paper. And with good reason too, a well placed illustration will give credibility to a business document as well as make them a little more interesting. Although the photographs used for a company's branding and advertising are best created by a professional photographer, routine business documents can benefit from a well executed photograph.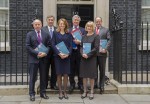 In the workplace you may find yourself photographing new employees, or milestones like anniversaries, parties, and retirements. Or maybe photos of projects and products for company newsletters or proposals.  Photographs might also be used for training or in procedures and instructions.
A sales person may want to take pictures of customers with their product to use in follow up pieces like thank you cards, calendars, or cards.  Businesses can also use product images for advertisements and their web site.
In businesses photography it's very important to capture your subject (person or otherwise) cleanly, without clutter, and in the best light possible without any shifts in color.  For small products you can purchase a tabletop studio or create one with poster boards or a plain white sheet.  For larger objects and people use a neutral colored wall with enough space that you can position your subject 5 or 6 feet away from it to help lesson the shadow cast by your built in flash.
For more information about product photography you can  read my post about photographing items for online auctions.
Tips for Business Photography
Adjust for shadows. Move your subject away from the wall.  When doing a new photo, ask them to hold a reflector at waist level and move it to fill in the shadow caused by overhead lighting.
Set up for your intended use. A image that is intended for the web needs to be have a simple composition with an uncluttered background so it's snappy size will be easily readable.  Web images should also be brightened slightly.
Keep the same perspective in a photo series.  If you're photographing several new items, set them up on a long table and use the same camera position, lighting, and lens to capture each item.
Consider the colors as a group.  Think about all the colors in the image. Change the background or location if they aren't harmonious.
Don't use a flash. Don't use the flash when capturing small objects.  It is very hard to capture highlight details on shalom objects when you're using a flash. Try using desk lamps insisted.
Photography Credits

"Annual Report" by Andrea Balzano
"Business Task Force" by Number 10