Review your families snapshots for an introduction to this subject of snapshots. These simple pictures may not be fine works of at, but the emotions they trigger are priceless. As you can see, the traditional goals of photographers don't matter with "snaps". The subject can be in the center of the frame, body parts can be cropped off, the exposure can be wrong, it doesn't matter because the content of the image is so important.

Generally the aspiring photographer wants to move beyond snapshots. That's a great goal, but it's important to remember that "snaps" are necessary and beautiful in their own right. It's important to make and keep a record of our family's histories, the happy, sad, and everything in between.
Every day snapshots, by their nature, include the icons of their time. Icons are the objects in your image that will date it for future viewers. Objects such as clothes, computers, hair styles, cars, planes, computers, phones (even cell phones), furniture, decorations, popular chain stores and restaurants.
---
---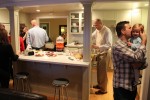 More than any other type of photography, the snapshot is the best at capturing family and friends with their guards down, revealing moments when they are carefree and relaxed.
Tips for taking snapshots
Use exaggerated camera angles and slower shutter speeds. Try tilting the camera and, or, use a shower shutter speed to emphasize the fun and motion.
Always have your camera ready. Being ready with your camera is the only way you can get those day-in-the-life family pictures.
Refrain from posing people. The more posing you do, the less snapshot quality you'll get.
Set you camera to it's fully automatic mode and just shoot. Enjoy the freedom of not having to adjust settings and just have fun taking pictures.
Practice, practice, practice! The more you practice photography techniques the better your photography will be, including snapshots.
 Photo Credits